Awakening the Dreamer, Changing the Dream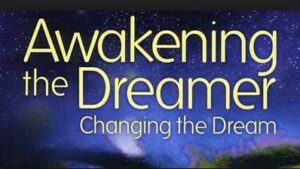 The AWAKENING THE DREAMER, CHANGING THE DREAM SYMPOSIUM is part of a rapidly expanding global initiative, in more than 80 countries in 16 languages.
It's a totally unique workshop–live facilitation and participant interaction are combined with a tapestry of video interviews, drawing upon leading edge information and the wisdom of our time, with some of our most respected global elders, luminaries and leaders, including:
Van Jones, Paul Hawken, Desmond Tutu, Lynne Twist, Thich Nhat Hanh, Thomas Berry, Drew Dellinger, Wangari Maathai, Majora Carter, Carl Anthony, Brian Swimme, Julia Butterfly Hill, and many more
Learn where we are as a human family and how we got here.
Discover your role in creating a sustainable future.
Connect with like-minded, openhearted people and move into action.
Discover new opportunities to make a real difference in accelerating the emergence of an environmentally sustainable, spiritually fulfilling, and socially just human presence on this planet!
Ongoing workshops.
Contact me for upcoming dates.